This is the fourth post in my seven-part Alaska Cruise series.
While cruising through the Glacier Bay in Alaska, I went completely shutter crazy! It was then that I knew my blog post on this natural wonder has to be a photo essay. It cannot be otherwise. After all, pictures speak more than a thousand words, right? But cruising through Glacier Bay was also one of those experiences where I would look through my camera's view finder and then move the camera away to actually see the gorgeousness through my own eyes to make myself believe that what I'm seeing through the camera lens is actually in front of me! You have to experience it for yourself to truly understand what I'm saying.
Related Post: Mendenhall Glacier and Whale Watching in Juneau
Related Post: Seeing Alaska's Beauty by Train in the White Pass & Yukon Rail
Trust me, when I say you can never forget your first glacier sighting! For me, my first glacier sighting was the Mendenhall Glacier in Juneau which was the first port of call during our 7 day Alaska Cruise with Princess Cruises. It was magical! But cruising through Glacier Bay was even beyond that. It was a sensory overload! It's almost difficult to put it into words. Let me just say it was the highlight of my Alaskan Cruise. It's not surprising why Glacier Bay and its epic glaciers are part of the UNESCO World Heritage Sites.


Seeing glaciers with my own eyes was always on my bucket-list. I've watched a number of documentaries on glaciers, and also learned from the park rangers aboard our cruise ship, that glaciers might not last a lifetime owing to the ongoing climate change. So, if like me you're a nature lover and want to see glaciers, it's better to plan it sooner rather than later. Seeing these grand marvels of nature is sure to blow your mind away; it's a jaw-dropping experience really.
Our 7-day Alaska cruise included a day of cruising Glacier Bay. Since Glacier Bay is actually a national park, park rangers came on board to tell us about the landscape and the wildlife we would be seeing during our time there and the conservation efforts going on within the park. I feel this was a really enriching experience. The fact that you get to see some of the world's best scenery in the comfort of a cruise ship in itself is amazing, and to top it, you get to learn so much from the people who work hard to protect this natural wonder.
Related Post: Alaska Cruise Packing Must-Haves
Our cruise ship was scheduled to enter Glacier Bay quite early in the morning. I remember waking up at 5 am and getting ready, bundling up in layers of warm clothing complete with gloves and beanie. As I sipped my morning coffee, I watched our ship enter the bay on the live cast that was showing on the television. It looked like a rainy, misty morning with almost zero visibility. After a bummer of a day in Juneau, I was hoping for a clear day in Glacier Bay. Anyhow, we decided to go out on one of the decks to see what's in store for us.
Here's what we saw (or hardly saw!)…
The first few chunks of ice as the ship moved closer to the big glacier…
which was still wrapped under mist.
The mist slowly started to clear up.
Our cruise ship got closer to the Margerie Glacier which is the showstopper of Glacier Bay.
Still not completely revealed…and all this while I kept singing…'Quit playing games with my heart…'
And then…the spectacular Margerie Glacier revealed itself!
We even witnessed some glacial calvings, which is when large chunks of ice break from the glacier and fall into the sea creating a 'white thunder'. So awe-inspiring!
And I couldn't get over how blue the glacier was.
I can't tell you how badly I wanted to touch it.
We took in the awe-inspiring scenery and continued enjoying an unforgettable day of sailing through this dazzling park, as our cruise ship took 360 degree turns. It was amazing to see such happy, gleaming faces of fellow cruisers all around us.
The ship continued gliding along the emerald waters, past the chunks of icebergs as it was time to bid goodbye to Margerie Glacier. But apparently, it wasn't the end.
There was another oh-so-blue glacier – John Hopkins Glacier. It's the park's most active tidewater glacier.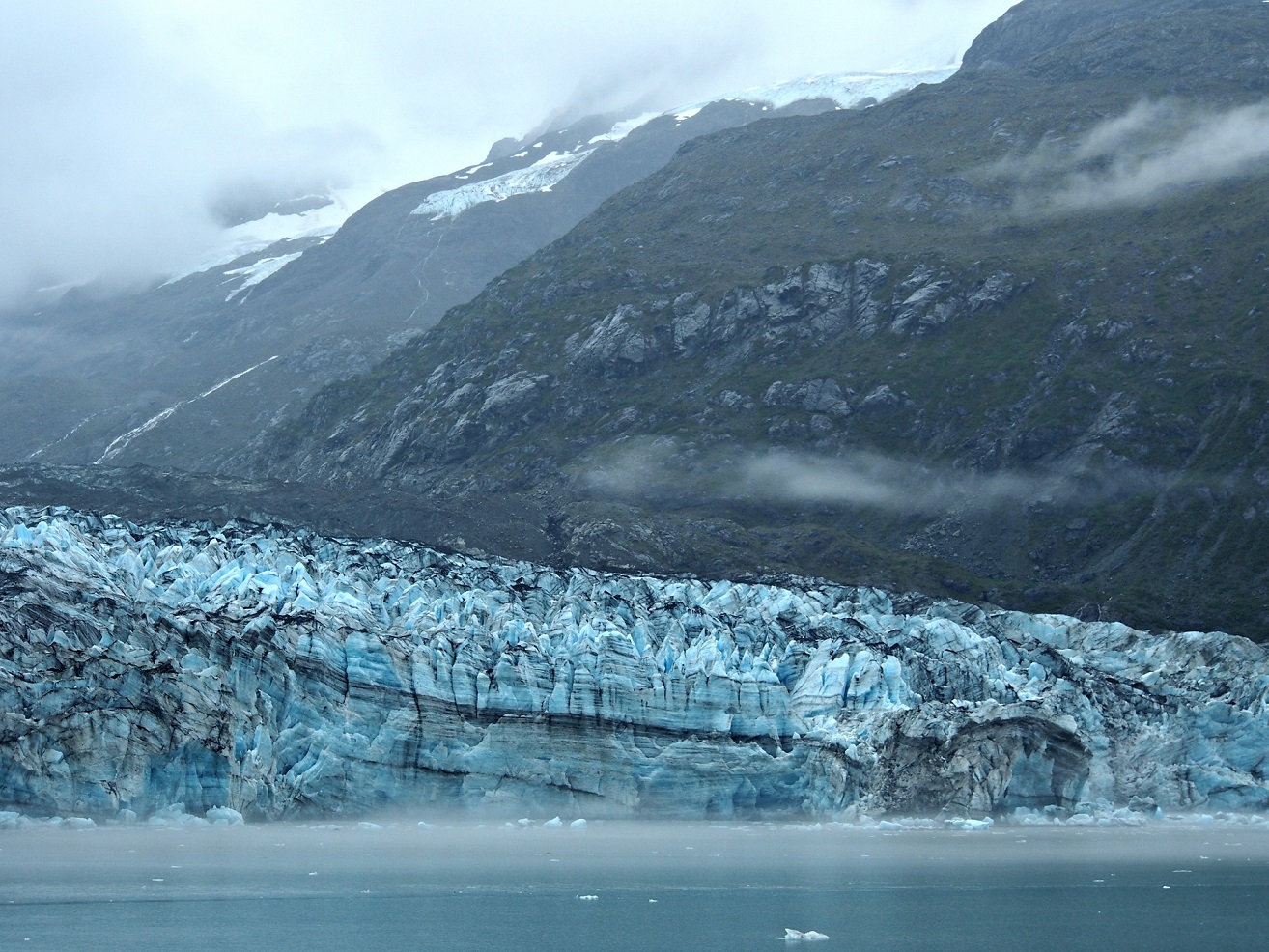 And the Lamplugh Glacier.
We somehow didn't manage to see any wildlife during our time in Glacier Bay but of course, lots of whales, otters and bald eagles while cruising though the Inside Passage.
Glacier Bay Cruising Fact File:
While the closest city to Glacier Bay is Juneau, the Visitor Center is located in Gustavus, Alaska. Unless you're super adventurous and want to hike a glacier, I'd definitely recommend seeing the glaciers through a cruise ship
You don't get off the ship at Glacier Bay. You stay on board while the ship takes you as close as possible to the glacier. It's pretty awesome!
Glacial calving of course never happens on schedule, so you have to keep an eye on the activity and the sounds. A park ranger told us that during one of the calvings we were lucky enough to see, the piece of ice that fell was the size of a 20-story building!
While have your very own private balcony can be a really amazing experience especially on Glacier Bay day, it isn't absolutely necessary. The views from the deck are equally stunning! Plus, you get to be part of the excitement on the deck. It's fun to see people ooh-ing and aah-ing
All in all, on a clear day, you can see somewhere around five glaciers – Rendu, John Hopkins, Marjerie, Grand Pacific, and Lamplugh. Each of them are unique in their own way, but Marjerie Glacier is definitely very special
What you need for your day in Glacier Bay:

Have you visited Glacier Bay? Did you witness any calving? Is this place on your bucket list? Let me know in the comments below!
Are you on Pinterest? Pin this post to save for later!