This is the second post from my Seattle Series.
After our life-changing Alaskan cruise last September, we decided to stay back and explore Seattle a bit. We were there for a little over a day and of course, like always, we had a long list of places to see, things to do, and experiences to have. In one of my previous posts, I took you on a walk through the magical Chihuly Garden and Glass Museum, and today, I'm going to share with you another gem from Seattle – the Pike Place Market.
Related Post: Calling All Beer Lovers | Pike Brewing Company, Seattle
If you find yourself in Seattle, this is where you might want to show up first. With an empty stomach of course!


The Pike Place Market is perhaps the most famous attraction in Seattle after the Space Needle. There is so much to experience here that it's understandable why it's called "The Soul of Seattle". When I arrived in the city, this world famous market was naturally my first stop. It was a Sunday morning, so the the place was packed. And luckily for us, the sky was clear. Seattle blessed us with the best weather possible (When you talk about Seattle, you have to talk to about the weather!).
Pike Place Flowers
I had heard so much about the fresh flowers here, that I decided to wander the flower stalls first. It was Dahlia and Sunflower season and the market was filled with them. These are my favorite flowers so it was all the more special for me. I don't buy these flowers too often because they can be expensive and they don't last long, at least for me. I was quite surprised to see how inexpensive they were here. They were all being sold for $1 per stem and the big ones for $3 per stem! You could buy a huge bouquet of flowers for just $10!
If I was living in Seattle, I would buy fresh flowers everyday!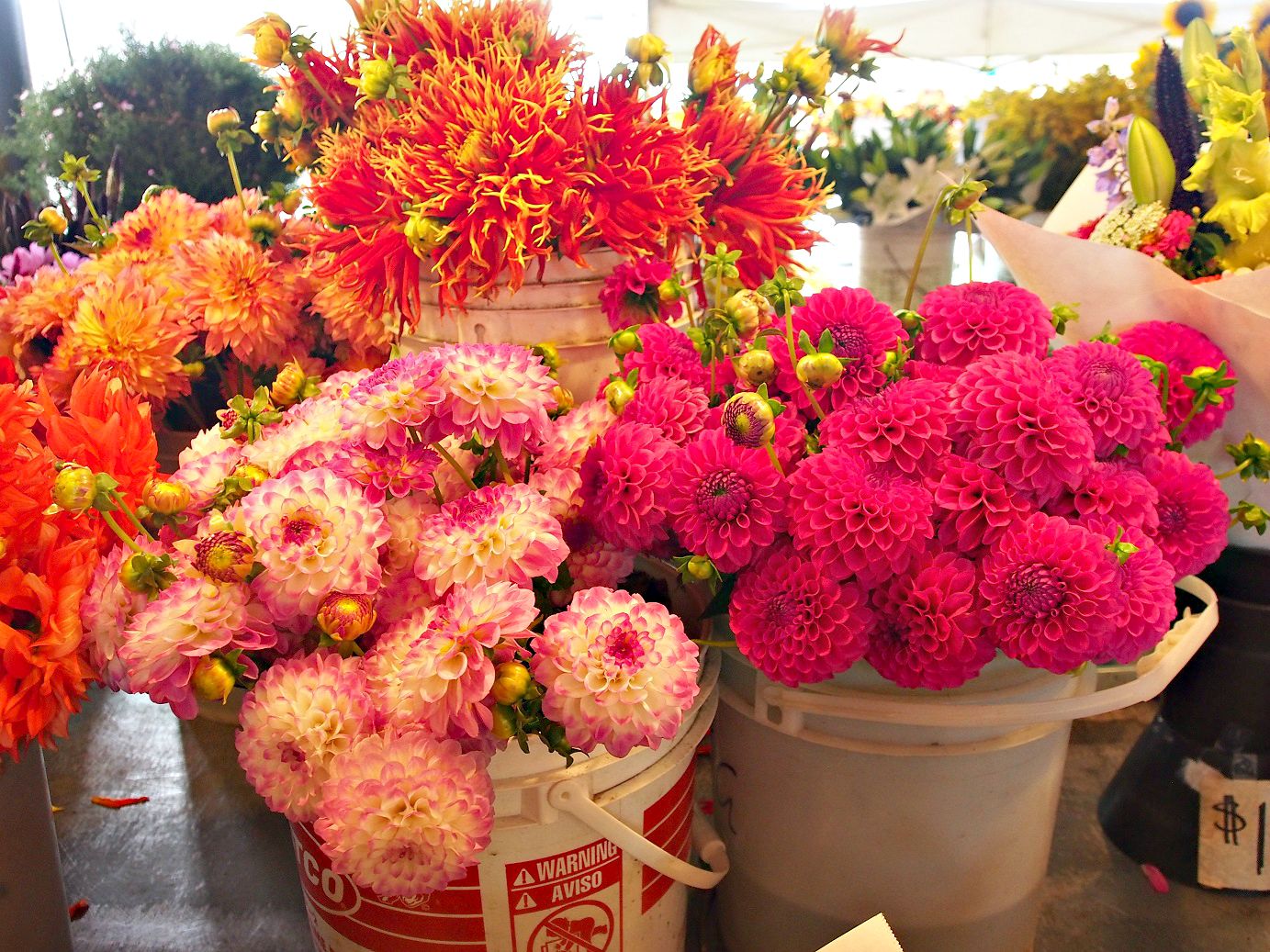 The Oldest Starbucks
If you're not already aware, Seattle is home to the first ever Starbucks! The oldest store is in Pike Place Market, operating since 1977. If you're a big Starbucks fan, you won't mind waiting in the long queue for a cup of coffee, or a souvenir. Since I'm not, I didn't bother (sorry, if I've offended you).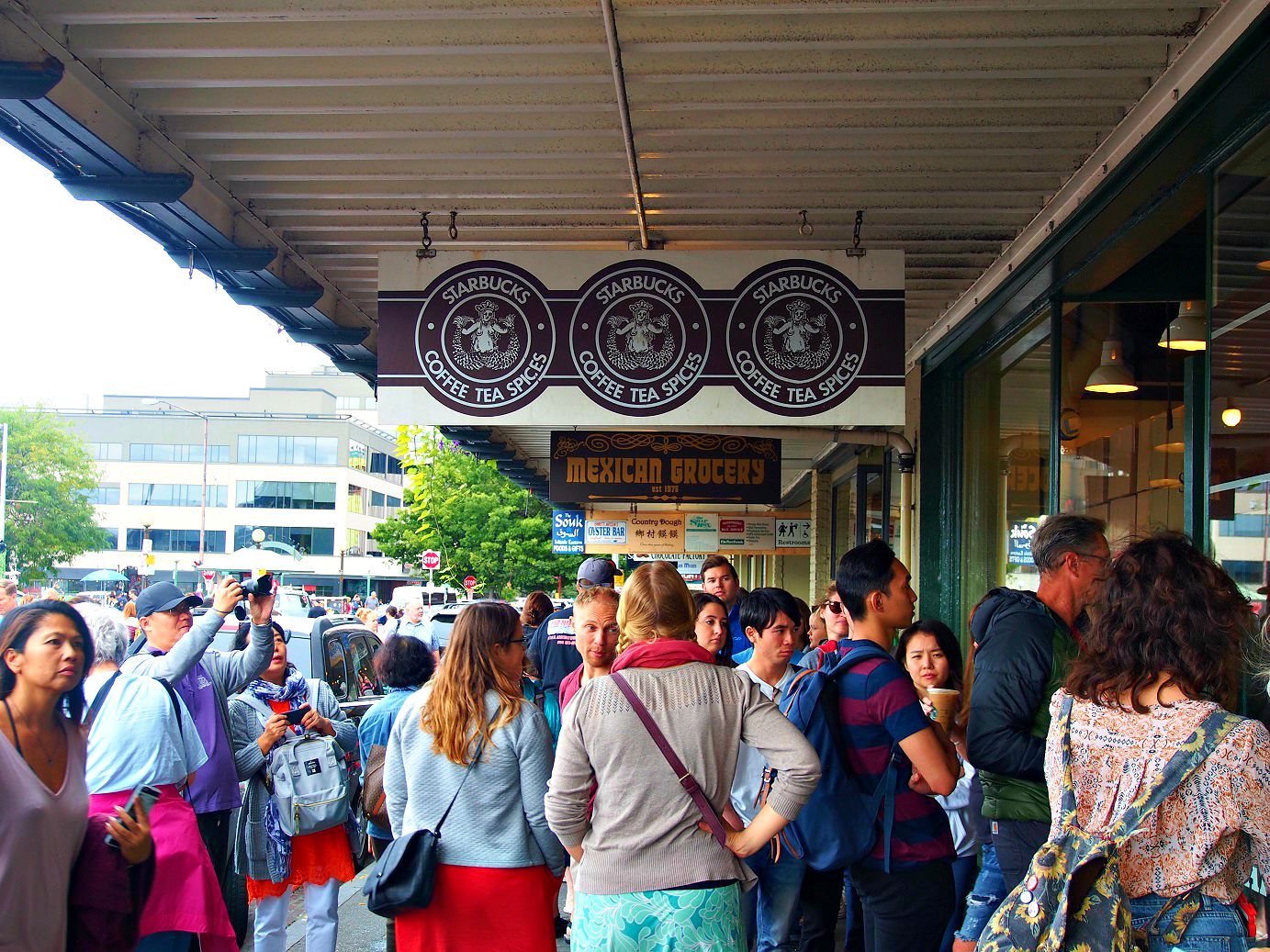 Pike Place Fish Market
Watching the fishmongers tossing fish back and forth is perhaps the most quintessential sight here. You will see a lot of people just standing there to watch the antics of the guys at Pike Place Fish. This has actually become a major attraction for the locals and the tourists alike. The guys working at the fish market are really hilarious. They are constantly cracking jokes with customers, and sometimes they even try to scare a passerby or two with dead fish. I couldn't take a video of them tossing the fish because it was too crowded.
Food and Dining
Well, it's a farmers market, so how can we not talk about food. Pike Place Market has an overwhelming number of vendors selling everything from the freshest, most gorgeous looking fruits and vegetables, the freshest seafood, spices, cheese, hand-made pasta and everything you can ever imagine.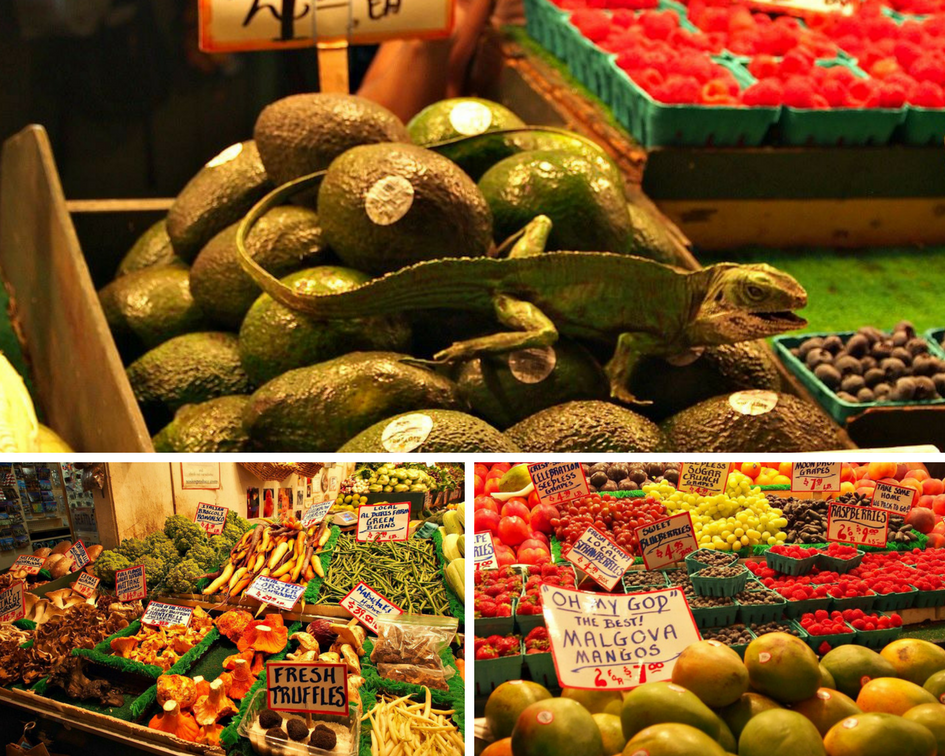 The market has over 60 places to eat. There is an endless variety of cuisines to choose from but I had one thing in mind when it came to food – clam chowder! I had two options where I could satiate my craving – Market Grill and Pike Place Chowder. I chose the latter and it was delicious. We ordered two different kinds and both were amazing. You could actually try both places and sample as many cups of chowder as you like.
Other great places to eat are:
Donuts at Daily Dozen
Seattle Bagel Bakery
Handmade Russian piroshky at Piroshky Piroshky
Gum Wall
I feel one of the most unique attractions at Pike Place Market and in fact in Seattle has to be the Gum Wall. It's just a brick wall covered in used chewing gum, in an alleyway near Pike Place. It is a Seattle landmark, even a tourist spot. There's even a story about how this gum wall came into being. Back in time, the patrons were not allowed to chew gum inside the Market Theater; so before entering, they would remove the gum from their mouth and just stick it on the wall beside the box-office. That's how the Gum Wall was born! Every couple of months the Gum Wall gets a good scrubbing, but it always manages to make a comeback. Some people find this disgusting while some think it is a colorful 'work of art'. What do you think?
Rachael the Piggy Bank
Rachael, the piggy bank is a 550 pound bronze statue and is known as the market's mascot (well, unofficial). It just stands beneath the 'Public Market Center' signage. If you get a photo-op with this Pike Place icon, don't forget to slide some change into her. The piggy bank helps raise funds for the Market Foundation, a non-profit organization.
Street Performers
Street entertainers, or buskers as they are known, are an integral part of the Pike Place Market. Everyday you'll find all kinds of performers entertaining the shoppers and onlookers in the market. I feel they add to the exciting atmosphere of the place.
Street Art
If you like street art, Pike Place Market will not disappoint you! As you make your way down the alley towards the Gum Wall, you can't not notice the various posters and graffiti. You'll find everything from whimsical to political.
That's pretty much all you need to know to truly enjoy your Pike Place Market experience. It's a great place to start your Seattle discovery, indulge in some people watching, and simply soak in the vibe of this cool city. The Market offers so much that every time you go there, you'll discover something new. It's the perfect medley of sound, taste, and color!
Don't forget to take a picture with the famous neon "Public Market Center" sign! Your visit to Pike Place Market will be incomplete without it. It looks equally stunning at night.
Must-carry when in Seattle: Rain Jacket

Are you on Pinterest? Pin the images below to save this post for later!