This is the third post of my seven-part Alaska Cruise series.
After spending an extraordinary day in Juneau, experiencing my first ever glacier and venturing out to look for humpback whales, the next day our cruise ship docked in Skagway, the second port of call.
Alaska is home to so much natural beauty, that it's impossible to see it all in one trip.
Related Post: Mendenhall Glacier and Whale Watching in Juneau
Related Post: Shopping for My Alaska Cruise
Related Post: Cruising Through Glacier Bay
In order for us to see more of the countryside and really get a feel for the Yukon territory, we booked a trip on the White Pass & Yukon Route Railway. The train ride starts in the picturesque town of Skagway, Alaska and crosses the Canadian border en-route to Yukon.
Not only would we be seeing snow-capped mountains, untouched forests, and creeks of rushing rapids, but we'd get to cross the border into Canada as well. This would be the first time I would set foot in Canada (well, not literally, because we never got off the train).
The White Pass & Yukon Railway is often touted as one of the most picturesque train journeys in the world, and for good reason. The railroad was made during the Klondike Gold Rush years and retains much of its original charm. Vintage carriages, fascinating stories about the gold rush years, and spectacular scenery make for a great day out. Expect to see tunnels, mountains, waterfalls, cliffs, and the gorgeous Alaskan countryside.
White Pass & Yukon Route Railroad
This railroad was built in 1898 as a way to expedite travel during the Klondike Gold Rush. The White Pass & Yukon Route Railroad is a three-foot-wide narrow gauge railroad that climbs from sea level to almost 3,000 feet in the first 20 miles. An engineering marvel, it features two tunnels and travels over sky-high trestles and bridges. Considered an impossible feat, the railway was completed in 26 months by blasting through the mountains with 450 tons of explosives. Fully restored, the comfortable passenger coaches feature large picture windows and are pulled by vintage diesel locomotives.
We split our time between sitting inside the train where it was warm and standing outside on the platform in the crisp air. However, when you're standing outside on the platforms, you cannot hear the commentary inside, so we missed a good bit of the information about our surroundings. But you get extraordinary views of the majestic panorama standing outside!
What You See Along The Way
The rail ride offers breathtaking vistas, waterfalls, mountains, glaciers and unforgettable Klondike Trail of '98, a tribute to the optimistic prospectors in search of their fortune. The fully restored cars, pulled by vintage diesel locomotives, climb nearly 3,000 feet over 20 miles of steep grades and around cliff-hanging turns. You'll retrace the original route to the White Pass Summit, passing Bridal Veil Falls, Inspiration Point and Dead Horse Gulch.
On a train ride this beautiful, it was so easy to get caught up in looking and soaking in all the beauty that I had to remind myself to take photos! It's so important to put the camera down and live in the moment though.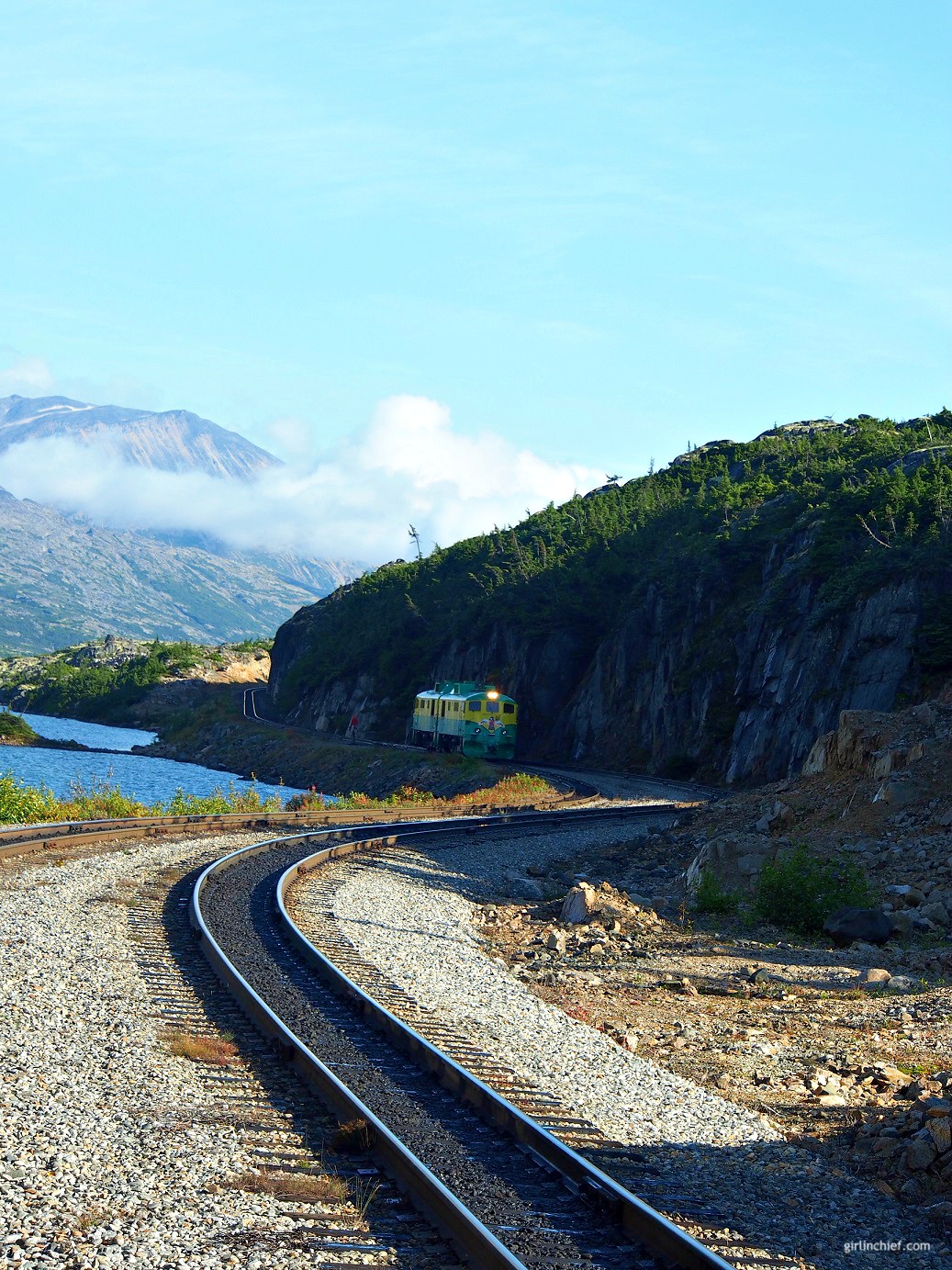 Alaska is one of the most beautiful places to experience a train ride, so be sure to add this excursion to your bucket list!
Pro Tip: When starting your train ride from Skagway, make sure you sit on the left hand side seats and on your way back, on the right side. That way, you'll have the best views to and fro.
PS: We did the White Pass & Yukon Route Railway early in the morning and by the time we were back in Skagway, it was time for lunch. Post lunch, we spent the rest of our time exploring the beautiful town of Skagway on a self-guided walking tour.
Are you on Steemit? Check out my profile and follow me!
Are you on Pinterest? Pin the image below to save for later!