Fill up the gas tank and buckle up. Everyone knows road-tripping is the ultimate way to see America. You can drive up, down, across, around or straight through every state in the continental US.
The first road trip we took in the US was the classic west coast journey from San Francisco to San Diego. In this post, I'm going to talk about my favorite part of the road trip – California's Pacific Coast Highway (PCH) or Hwy 101.
This twisting, cliff-hugging, 123-mile (198-kilometer) route along the central California coast takes about five hours to complete at a leisurely pace. It is designated an All-American Road and among the nation's most scenic.
The real appeal of the PCH is the magnificent scenery – wild and remote beaches, clifftop views overlooking crashing waves, rolling hills and lush forests.
The route starts in historic Monterey, visits the art colony of Carmel, and threads through Big Sur, where mountains plunge into the Pacific.
The journey starts in Monterey, a town that served as California's capital under Spanish, Mexican, and American flags. Surviving sites include the Royal Presidio Chapel, Monterey State Historic Park, Custom House, Casa Soberanes, Larkin House, and other adobe buildings, as well as touristy Fisherman's Wharf and Cannery Row, home of the celebrated Monterey Bay Aquarium.
After enjoying Monterey, we drive about 3 miles south on Highway 1 to Carmel-by-the-Sea – an upscale village of quaint colorful cottages, restaurants, inns, shops, and art galleries fronted by a broad beach fringed with Monterey pines.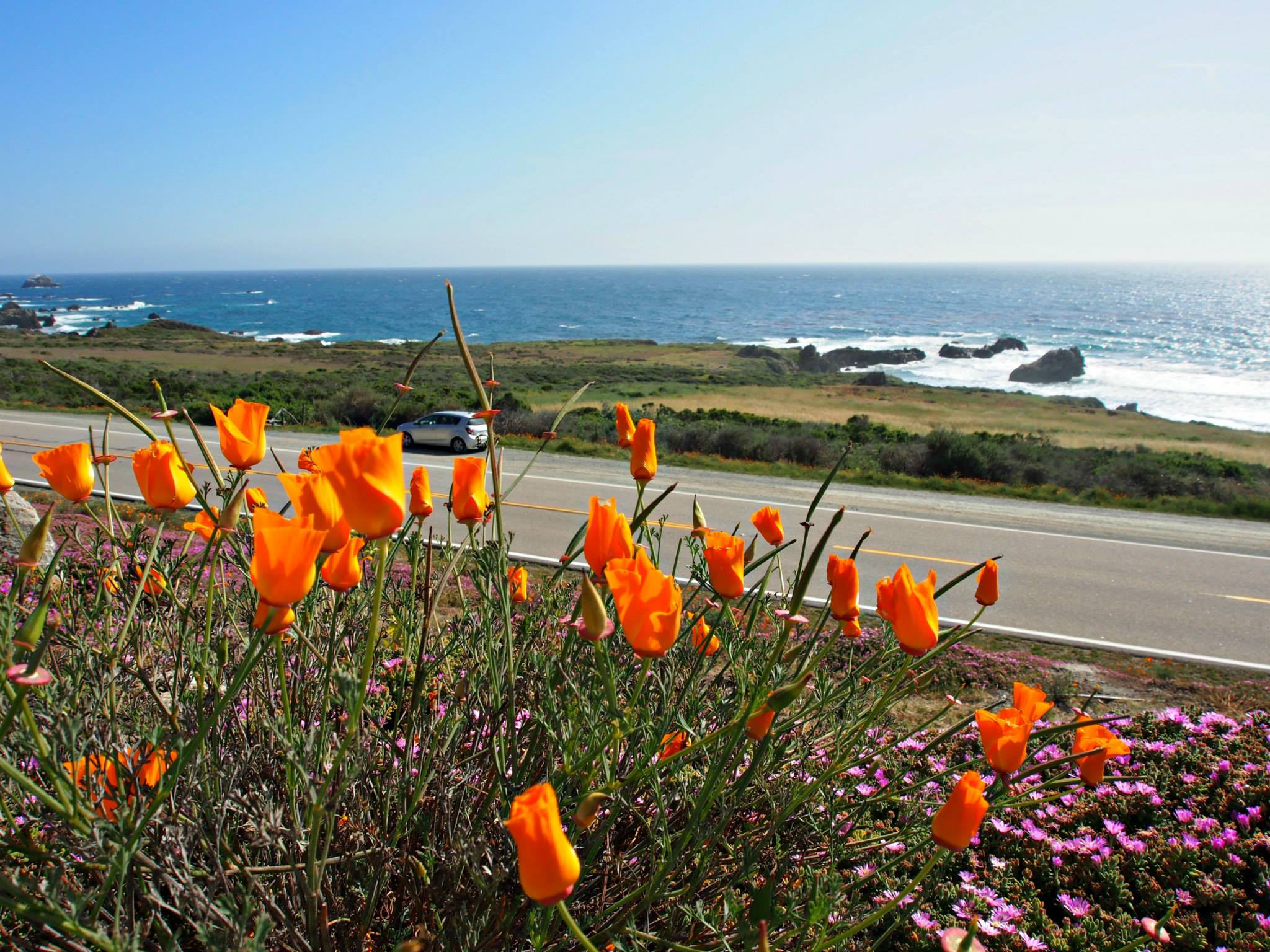 After driving through Carmel Highlands, where impressive houses perch on granite cliffs above the sea, we reach the start of Big Sur, which extends 90 miles (145 kilometers) south to San Simeon.
On this fabled coastline, redwood groves reach skyward, the Santa Lucia Range plunges into the sea, and waves are beaten to froth on ragged rocks.
It's a place of elemental power that can make human affairs seem inconsequential.
On this epic journey, there is a photo opportunity every five minutes. We don't miss any.
We drive further on to reach Garrapata State Park which has one of the few easy-to-reach beaches.
Our next stop is the much photographed Bixby Bridge. We park at a turnout to gawk and take pictures.
I couldn't resist the opportunity to get a picture clicked at every stop. With a backdrop like this, one can't really be blamed.
Passing through the settlement of Big Sur, we head for Pfeiffer Big Sur State Park. We almost missed the most photographed landmark in Big Sur, besides Bixby Bridge of course. Took a U-turn and came back to this.
Less than 2 miles further on the highway, we come to Nepenthe, an eatery perched on Big Sur cliff side offering California fare and a terrace with breathtaking views. We make a pit stop for lunch.
With happy tummies, we were back on the road again. Ahead us was the southern stretch of Big Sur. The road clings to a precipitous coastline. From here onward are hills and pastureland.
After a spell away from the Pacific, the road reaches the town of San Simeon. We stop to watch seals at the Elephant Seal Vista Point.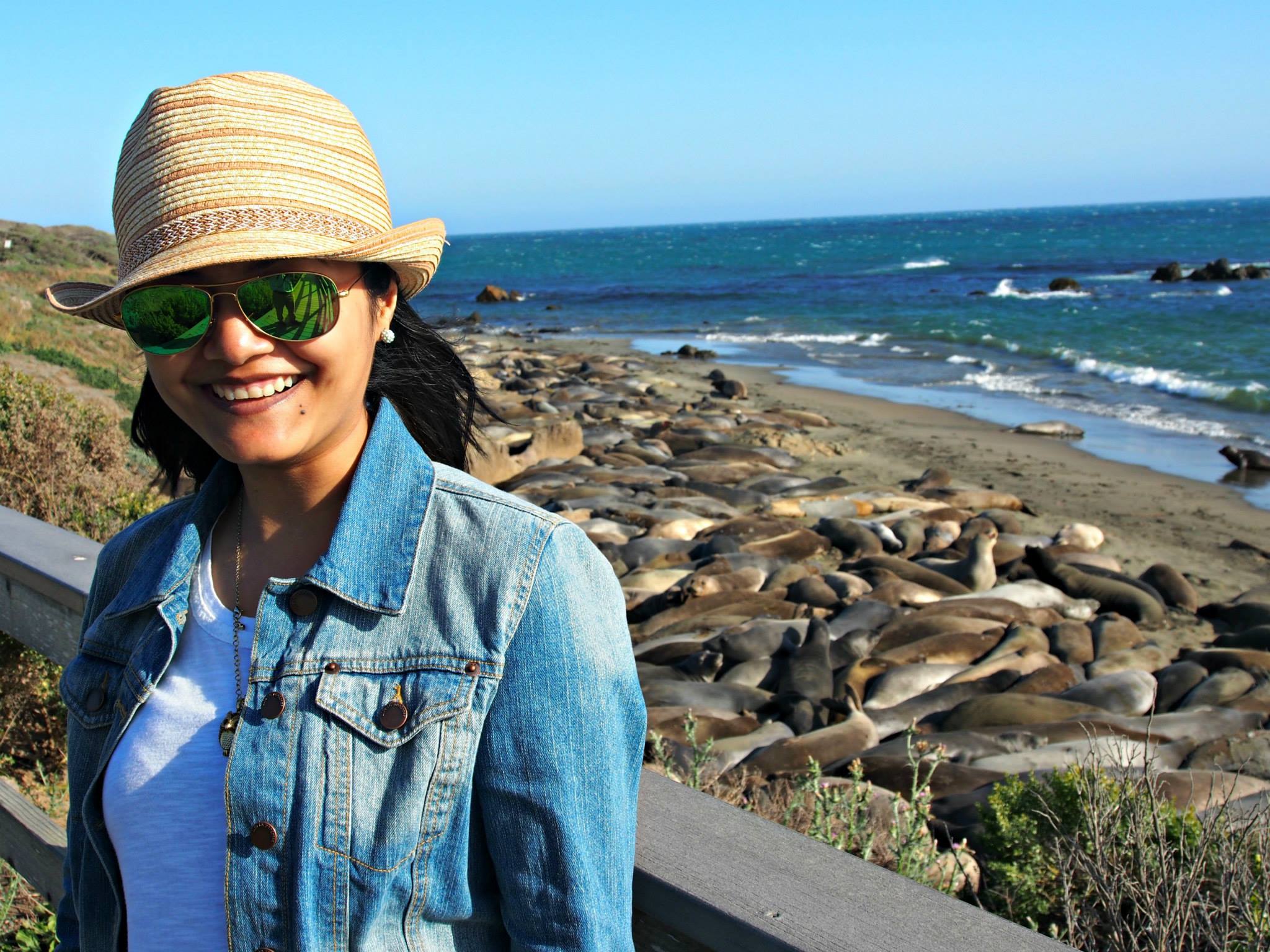 With this, our epic journey came to an end, just in time for sunset. The Pacific Coast Highway was an unforgettable road trip for us, which we completely fell in love with.
The PCH is a road trip for lovers, nomadic ramblers, bohemians, beatniks and curiosity seekers keen to search out every nook and cranny of stunning coastal vistas, gorgeous mountainous landscapes, and quaint little villages along the sea.
Are you on Pinterest? Pin the images below to save for later!