This is the second post of my seven-part Alaska Cruise series.
After sailing for a day and a half in the beautiful Alaska Inside Passage, our cruise ship docked in rainy, misty Juneau, our first port of call. We were told by our ship's Captain and the naturalist on board that Juneau is no place for sun worshipers, as it rains on average 221 days per year. But the locals don't let the rain stop them, and neither did we! When it rains in Juneau, you pack a raincoat and carry on with your day. So that's what we did!
Related Post: Alaska Cruise: Skagway | Seeing Alaska's Beauty By Train In The White Pass & Yukon Rail
Related Post: Shopping For My Alaska Cruise
Related Post: Cruising Through Glacier Bay in Alaska
We had booked two amazing excursions in Juneau – a helicopter ride and dog sledding experience on the Mendenhall Glacier and a whale watching tour. We were super stoked about the dog sledding of course! I won't be lying if I say I had been literally dreaming about the sled dogs from the moment I booked this excursion. This was definitely going to be the best part of my Alaskan cruise. Both our excursions were scheduled for a little later in the day so we had couple of hours to explore the town of Juneau. We decided to head downtown.
Juneau has an interesting vibe. The downtown part of the city has the feel of a frontier western town: pleasantly low-rise, with many of the buildings sporting frontier architecture and with four-faced clocks adorning many of the street corners.
With plenty of time to kill, we decided to do a self-guided walking tour of downtown Juneau using a map from Travel Juneau.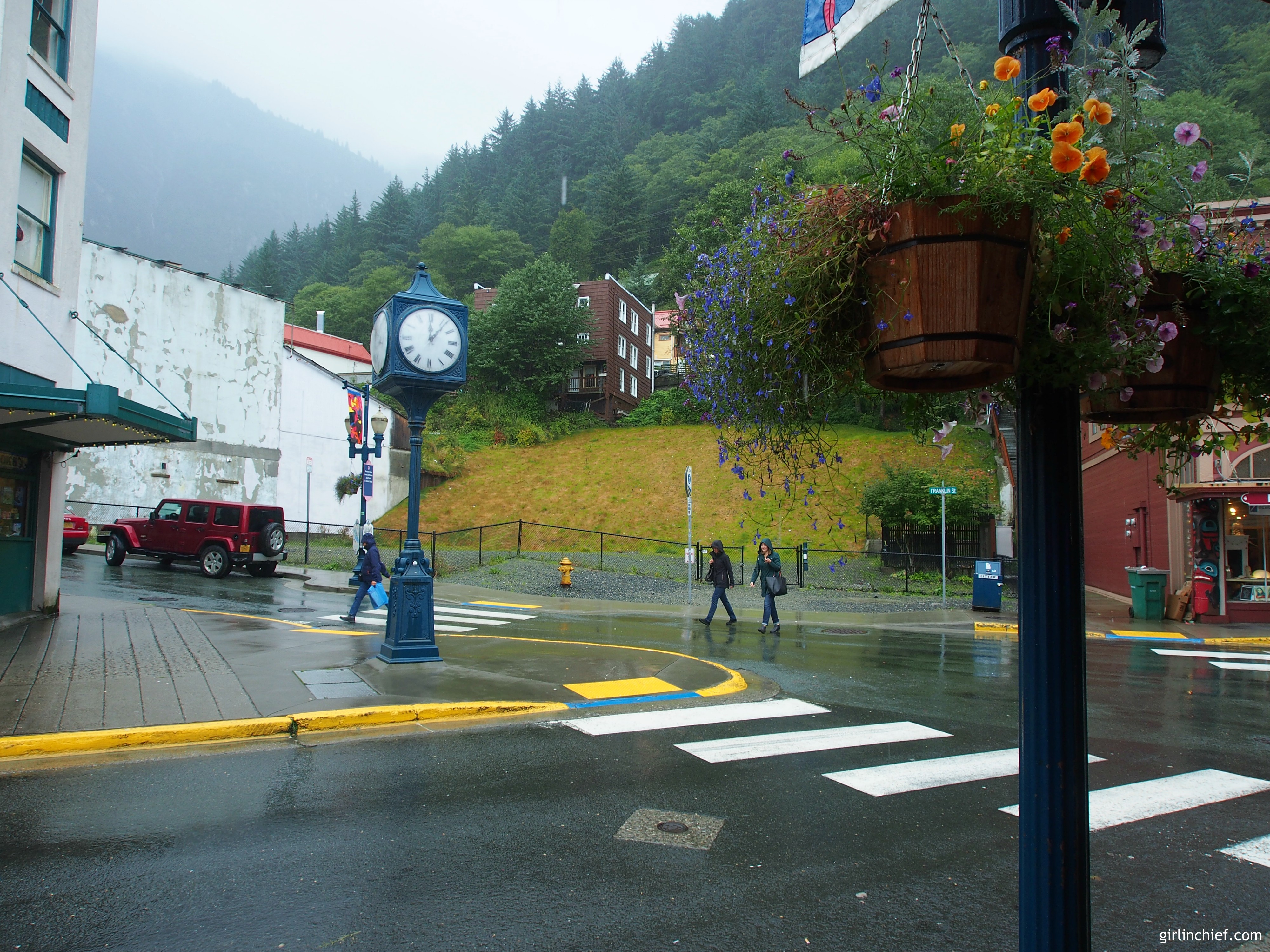 With our walking tour and souvenir shopping done and with about thirty minutes on hand before our excursion, we decided to take a break from the downpour and went straight to the 'world famous' Red Dog Saloon…
where we spent time moseying through swinging doors, drinking Alaskan Amber and having a great time (also praying that it stops raining and the weather clears up).
Soon it was time for us to meet our excursion guide. When we reached the designated spot, we were told that our dog sledding excursion had been cancelled due to bad weather and low visibility. ???? Honestly, we were not completely shocked. I guess both V and I had been secretly thinking about this possibility, considering it is pretty normal for such excursions to get cancelled owing to bad weather. We did take some time to overcome our sadness. After all, we both had been really looking forward to it. But there was no time to waste. We had to quickly think of Plan B. This is one of those things that travel teaches you – to quickly adapt to change and how to appreciate and manage a situation that is beyond our control or makes us uncomfortable! So instead of fretting over the unfortunate situation, we went ahead and booked ourselves a local tour to go see the Mendenhall Glacier. While both the experiences cannot be compared, I'm so glad we did this.
At Mendenhall Glacier, we couldn't get enough of the blue color of the meters upon meters of compressed ice. It was extraordinary. And you can never forget your first glacier! It cannot be described in elaborate words. Some things need to be experienced to be understood.
Having seen a glacier so up close, the desire to walk on it, touch and feel it is now even more. I know I will be going back to Alaska to get a taste of the glacier, literally. ????
Our second excursion in Juneau was an evening whale quest. You can't say you've been to Juneau unless you have seen a humpback whale in its natural environment. Following a short motorcoach ride to beautiful Auke Bay, we boarded a water jet-powered catamaran specially designed for Alaskan waters and wildlife viewing. As the catamaran sailed, we gawked at the breathtaking views of the spectacular scenery and admired the majestic backdrop of snow-capped peaks and glaciers as our captain guided us through the island-studded waters of Stephens Passage, a pristine marine environment world-renowned as a favored summer feeding ground for humpback whales.

Throughout the cruise the onboard naturalist explained the behavior and habitat of the humpback whales and other wildlife we encountered, including sea lions, porpoise, harbor seals, bald eagles and more! Auke Bay was teeming with wildlife. While enjoying the peaceful ambience of Alaska's long evening glow, we were treated to a light dinner buffet, desserts and some hot chocolate. It was perfect!
Every time whales were sighted, our captain maneuvered the boat to allow for exceptional viewing and photo opportunities. These graceful giants amaze you as they arc their massive tails into the air. It was a wonderful experience and I managed some pictures of whales breeching and of their tails.
I can't imagine coming to Alaska and not doing this tour.
Next week, I'll talk about the most spectacular day we had in our second port of call – Skagway. Hope you're following along.
Pin the image below to save for later