I'm on the Serenity Deck of my cruise ship, lying on a hammock overlooking the Caribbean Sea, determined to finish the book I've been reading for the past week. But the insistent cool breeze and the sound of gentle waves lapping, transports my mind to another place. How is the water so blue here in the Caribbean? Is the salty Caribbean air sprinkled with magic?
I've been luxuriating in my surroundings when I see a happy crew member coming towards me with a huge smile and an exotic looking cocktail and something to munch on. For a minute I had forgotten I was in the middle of a week long revelry that promises cocktails by the dozens, picture postcard locations, new friends, dancing, singing and lots of eating!
Going on a cruise was on our bucket list for quite sometime. However, we never really came to planning one since you all know how much we love road trips. We weren't too sure if we would appreciate this way of travelling. But we finally decided to take it up (and were lucky to get a great deal too, thanks to Costco Travel). Let me tell you this. This has been one of our most memorable vacations. We have come back totally in love and addicted to cruise life! ????
Since we were first time cruisers, we did do a lot of research in choosing the cruise line as well as the location. Our choice – a cheery Caribbean cruise with Carnival Cruise Line. Carnival is known for its informal approach to cruising – think huge ships, delectable buffets, and endless entertainment opportunities. A little birdie told me about movie screenings under the stars. So we were kicked to experience our first cruise with a week of fun.
What we did not know was that this would also turn out to be a week of culinary hedonism. Large American cruise ships are perfect for foodies. We were on the stunning Carnival Freedom and spent our days enjoying breakfasts in bed, sea day brunches, expansive lunch buffets and devouring three course dinners for an entire week.
Related post: The Best Things I Ate On My Carnival Cruise
Breakfast on the Lido deck has dozens of varieties of pastries, cereals, eggs, meats, pancakes, waffles, cheeses, and fresh fruit. And we never had to rush because there are options for everyone – breakfast buffet from as early as 6.30 am to one for late risers as well as a sea day brunch. Snacks and lunches were never a problem. There are plenty of options for dining throughout the day – 24 hours pizza at Pizza Pirate, sandwiches and hot dog at the Deli to a Mexican Cantina called Blue Iguana with a huge salsa bar. Pizzas are rolled from scratch, hot dogs come with all the toppings you could possibly want, and the popular Blue Iguana Cantina has a variety of fillings to suit every palate. Of all the options at lunch, we loved Guy's Burger Joint and the salad bar at Lido the most.
In case you want to wash down all that greasy food or you're simply craving something sweet, drop by the cafés for a cup of coffee or some scrumptious ice-cream. Did I mention DIY ice-cream swirls are available 24 hours a day? This decadence continues at the free sit-down dinners at the two formal dining rooms – food is tasty, well-presented, and portions perfect. You can order all the food you can eat. You don't need to restrict yourself to one appetizer, one entree and one dessert. Loved a sweet mango soup appetizer? Order it for dessert as well like V did. Make sure you try the dishes listed under 'rare finds' on the dinner menu – they are usually the best of the lot. For one dinner, we had frog legs with grilled brioche on the menu. Now you get my point?!
If you want to try something different, then there are quite a few restaurants on board where you can dine for a fee. The Sun King Steakhouse is the most popular one on Carnival Freedom.
I do know I've spent half the post talking about food but that definitely is one of the highlights of a cruise on Carnival Freedom. Irrespective of whether we wanted comfort food or gourmet delicacies, the ship delivered on all fronts.
But that's not the only draw of a Caribbean Cruise. The ship docks at idyllic islands for a good amount of time (for a seven night cruise, we had three sea days in the beginning followed by three port days and then another sea day before we ended our cruise in Galveston, TX). Palm trees, juicy coconuts, clear azure waters and white sand beaches are a given in this part of the world.
In Montego Bay, Jamaica, we decided to take a catamaran sail and snorkel excursion and set sail for fun and adventure. There was a bar on board with a free flow of the yummiest rum punch. Our first stop was at the reef where we explored the corals and sea life in the crystal clear Caribbean waters. Next, we set sail for the famous Jimmy Buffet Margaritaville Bar and Restaurant located right on the water on Montego Bay's Hip Strip. Here you can slide down the water slide, jump on the trampoline, grab a snack or cocktail, shop for a souvenir, or search for that lost shaker of salt. During the sail back to the dock the fun continued as several trips to the bar were made and the crew taught us some Caribbean dance moves.
In Georgetown on Grand Cayman Island, we got off the ship for a lazy and chilled out day at the famous Seven Mile Beach. With the crescent shaped shore and soft, coral sand, the Seven Mile Beach is one of the best beaches in the Caribbean. It is also a great spot to try snorkeling for the first time. The clear water allows snorkelers to see the vibrant fish and beautiful coral. Since it's the Caribbean, drinks are never far behind – by 11 am we were sipping on the signature Tortuga Rum Punch and Pina Coladas.
Our third and last port day was at Cozumel Island, located off the Eastern Coast of Mexico. There were six cruise ships docked there that day. Cozumel Island indeed is a popular Caribbean port among cruisers. In order to escape the crowds, we decided to take a ferry to the city of Playa Del Carmen in the state of Quintana Roo, Mexico. The area's nerve center is El Zócalo, and similar to Mediterranean beachfront towns like Nice, the funky little public square is within walking distance of the beach. Just off the square and running parallel with the shore, La Quinta Avenida or the 5th Avenue features several blocks worth of delicious eateries and quirky shops. Rest of the afternoon was spent people-watching as we shopped and strolled along 5th Avenue.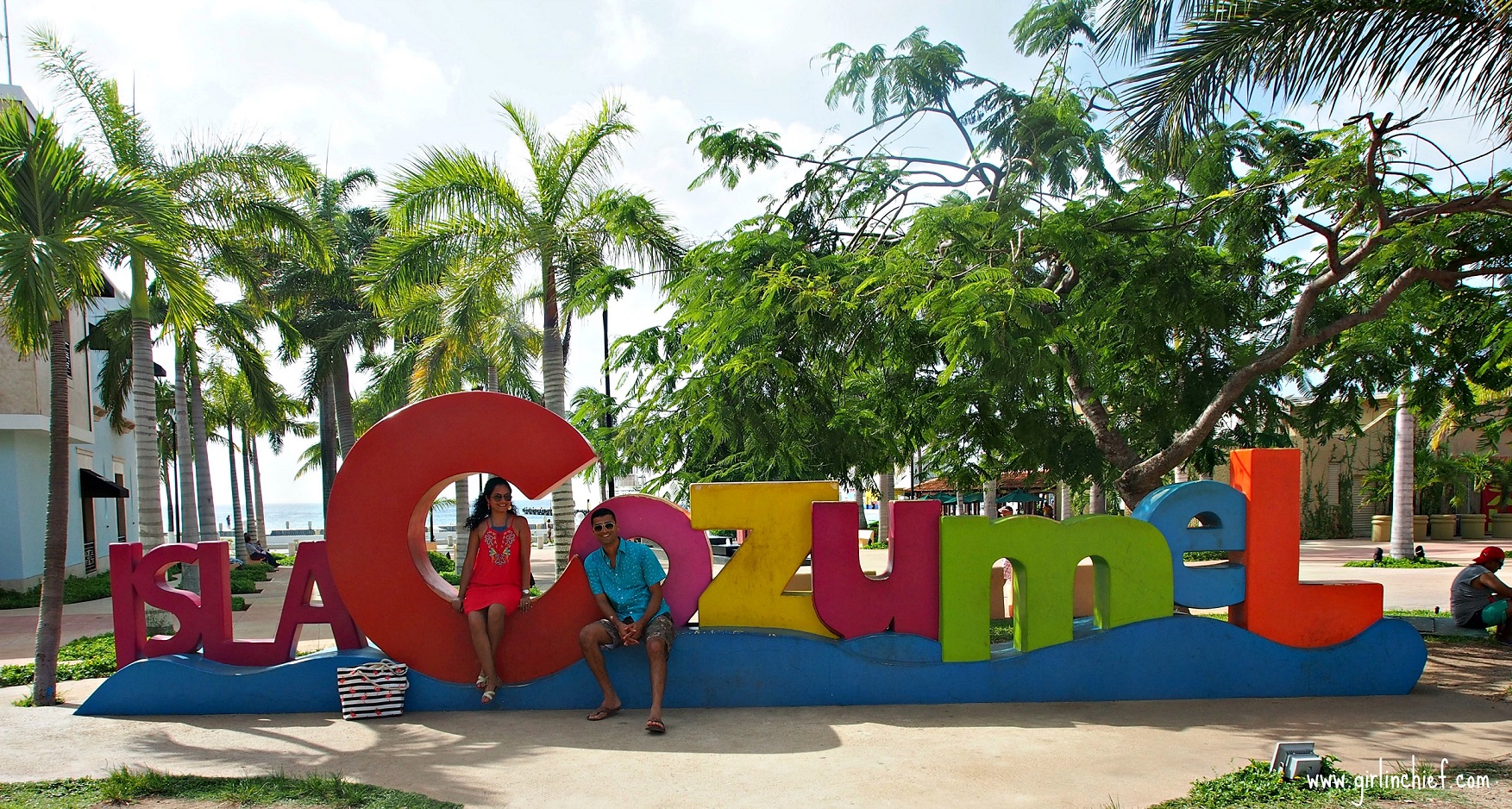 Having devoured the sights and sounds of Mexico, it was time to wind down. We spent our days at sea eating, drinking and making merry. Mornings were spent reading in our cabin's balcony, looking out onto the endless sea or in one of the jacuzzis on Carnival Freedom. Every afternoon we would either be in one of the lounges playing Bingo or at one of the tables in the casino. Dinners were followed by live shows in the Victoriana Lounge or singing along at Scott's Piano Bar.
I think that is how I'll always remember the Caribbean – the land of pastoral islands, people with bright smiles and big hearts, and the best rum punch in the world.
Fact file and stuff we loved about our Caribbean cruise:
Expect ports with sparkling blue waters, swaying palm trees, and endless sunshine on a Caribbean cruise
Carnival Freedom is a big, busy ship. It is perfect for large groups and families too
Carnival ships offer 24 hour free room service including breakfasts in bed
No matter how busy the ship is, you can always find quite corners all to yourself
We were pleasantly surprised by the great dining options on Carnival Freedom
Taking a Caribbean cruise is an easy and convenient option for people living in Texas because the ship sails from Galveston Island and you don't need to book a flight
Week long cruises on Carnival Freedom start at $500/person for inside cabins and $750/person for balcony cabins
Pin this image to save for later