My visit to Wildseed Farms coudn't have been better timed. Endless fields of red corn poppies, a beautiful nursery, and a winery to complete your Texas Hill Country experience! If you find yourself in or around Fredericksburg TX, a stop at Wildseed Farms is a must. Every season has different flowers in bloom and also for sale. Right now, it's bright red poppies and of course, the much loved Texas state flower – Bluebonnets. Seriously, the drive up there is totally worth it!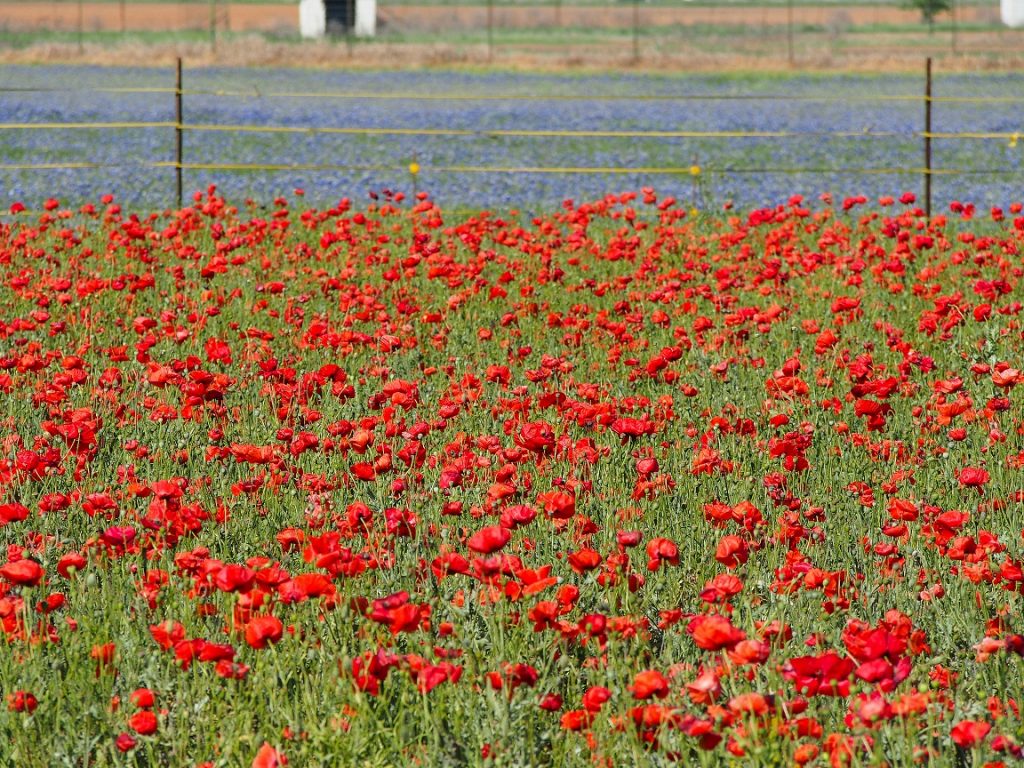 Wildseed Farms is the nation's largest working wildflower farm with over 200 acres of colorful blooms in season. Although the poppy fields make visitors feeling ecstatic, Wildseed Farms doesn't nurture these fields merely for our delight. The fields are harvested later in the season and the seeds are packaged for sale.
Related Post: Fun Things To Do In Texas This Spring
Related Post: Where To See Bluebonnets In Texas
Related Post: Texas Tulips | A Piece of Holland in Texas
Related Post: Spring Camping at Inks Lake State Park, TX
As you enter the farm premises, you'll notice the beautiful building that has been designed to blend in with the Hill Country location. The use of limestone, wood and metal creates a beautiful backdrop for all the plants.
Bright red Corn Poppies and three colors of Texas Bluebonnets greet you as you enter the parking area.
There's about a half mile trail lined with a wood looking fence that leads through the display and the gardens. You can take a leisurely stroll (while you're going delirious taking pictures) and even take short breaks as there are sitting areas and water features placed along the route.
The Wildseed Farms also operates a retail nursery with a large assortment of plants for sale. They are one of the largest plant nurseries in Central Texas with large selections of annuals, perennials, herbs, tropicals, cactus and succulents. You can also order through their seed catalog or buy the seeds available at the store.
The Brewbonnet Biergarten offers a place to grab something to eat and drink. Unique jams, jellies, salsas, and other goodies are available for purchasing. They all looked amazing!
Once you're done taking in all the gorgeousness around, and are ready to make your way back, you can stop at Blossoms Boutique, the cute gift shop on site. It offers books, birdhouses, and the like, in addition to more decorative items.
Fee: Parking and admission are free.
Hours of Operation: 9:30am – 5:00pm daily.
Address: 100 Legacy Drive, Fredericksburg, TX 78624
We visited in April which is peak wildflower season in the Texas Hill Country. Check here to see what will be in bloom for your visit.
If like me, you love flowers and go shutter crazy at the sight of them, then Wildseed Farms is the place. After all, there are few things as spectacular as fields covered in a solid blanket of red. It was definitely the highlight of my weekend in the Texas Hill Country!
Happy Spring!
Are you on Pinterest? Pin this post to save for later! Know another flower lover? Share this post with them because sharing is caring!