Disclaimer: I want to thank the Oklahoma City Convention and Visitor Bureau for inviting me as their guest. This post may include affiliate links. As always I only recommend places and products I love, all opinions are my own.
Being a Dallas, Texas resident, Oklahoma City has always been our Northern neighbor. But honestly, the thought of specially visiting the city had never really crossed my mind. Now that we've finally had a chance to visit, both the husband and I regret not having done it MUCH sooner. Oklahoma City is an unexpected destination that will really surprise you. I can easily say it's my favorite weekend getaway spot. Our weekend visit to Oklahoma City was full of amazing food and some really fun, unique experiences, and lots of memories we'll always cherish. In case you have plans to visit Oklahoma City or if you're a DFW local like me and are seeking a little getaway (just a 3 hour drive up Interstate 35 y'all!), I've put together a little Oklahoma City weekend travel guide on where to stay, what to eat and what to do when you visit! Continue reading below for the full scoop.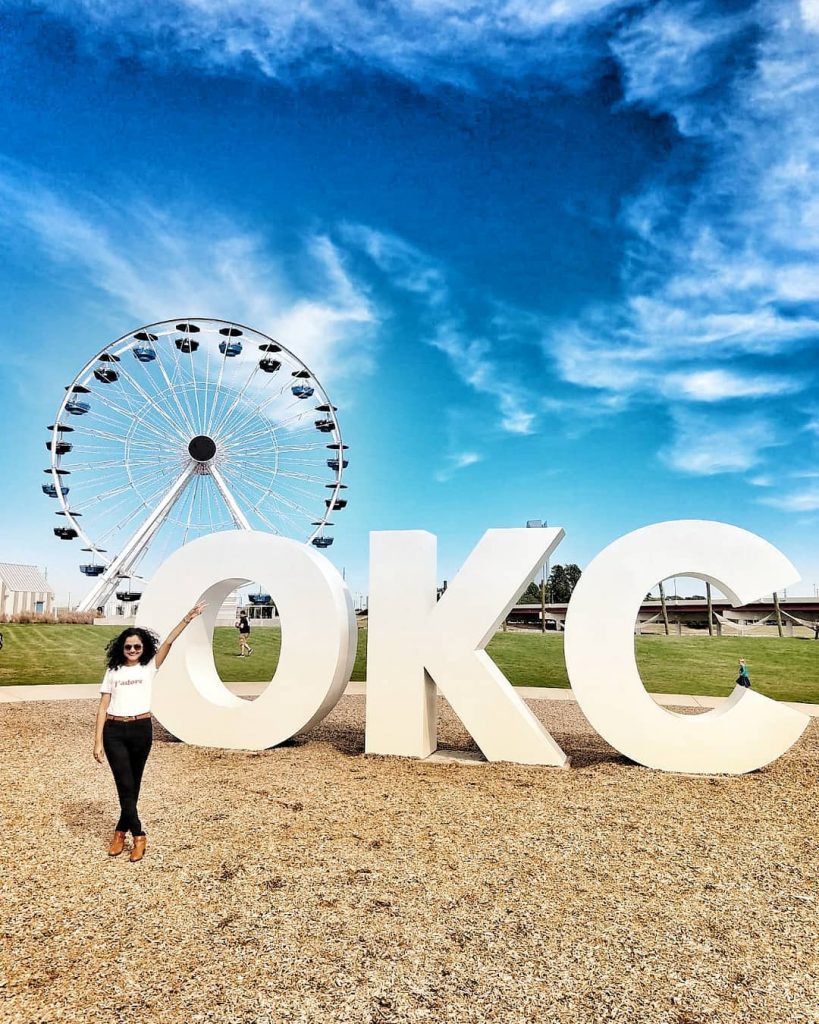 Where To Stay?
AC Hotel Bricktown – During our weekend trip, we stayed at the AC Hotel Bricktown (a Marriott chain), a boutique hotel located in the heart of the Bricktown Entertainment District. True to the spirit of its European heritage, the hotel offers a sleek and trendy environment with exceptional service. Another great place to stay while in OKC is the 21c Hotel, a modern, industrial museum-meets-hotel concept with a boutique feel.
Where To Eat and Drink?
When it comes to food and drink, Oklahoma City has an overwhelming amount of amazing restaurants and breweries to choose from. From cute brunch spots to the yummiest Southern comfort food with a twist, there's an abundance of choices, no matter what you're in the mood for. We got to try out a few amazing spots during our visit.
When we woke up on our first morning in OKC, brunch was the first thing on our mind. If you find yourself in OKC, you should definitely head to Hatch Early Mood Food for brunch. Located in the Historic Buick Building, in Automobile Alley, the atmosphere is cool and creative, and the food is delicious and fresh (the hashbrown tumblers were simply amazing!)
Both the husband and I are huge craft beer fans and love trying out micro-breweries when we are traveling and OKC has quite a few good ones. We made it to Oak & Ore (a craft beer bar) in the Plaza District and boy, they had 36 varieties of beer on their menu! Some of the really good breweries in OKC are Twisted Spike, Stonecloud, Anthem, COOP, and Roughtail. We've got to plan a brewery hopping trip to OKC soon.
Of all the places we ate at, our favorite was The Jones Assembly. We really loved this restaurant. The Jones Assembly is Oklahoma City's newest spot for amazing food, spirits and live music. When we walked in, we were so impressed by how enormous the indoor-outdoor space is, and by how beautiful it is too! Definitely the perfect social spot, whether you want to go for a date night or go with a group of girls for drinks and live music. But the food was UNREAL y'all!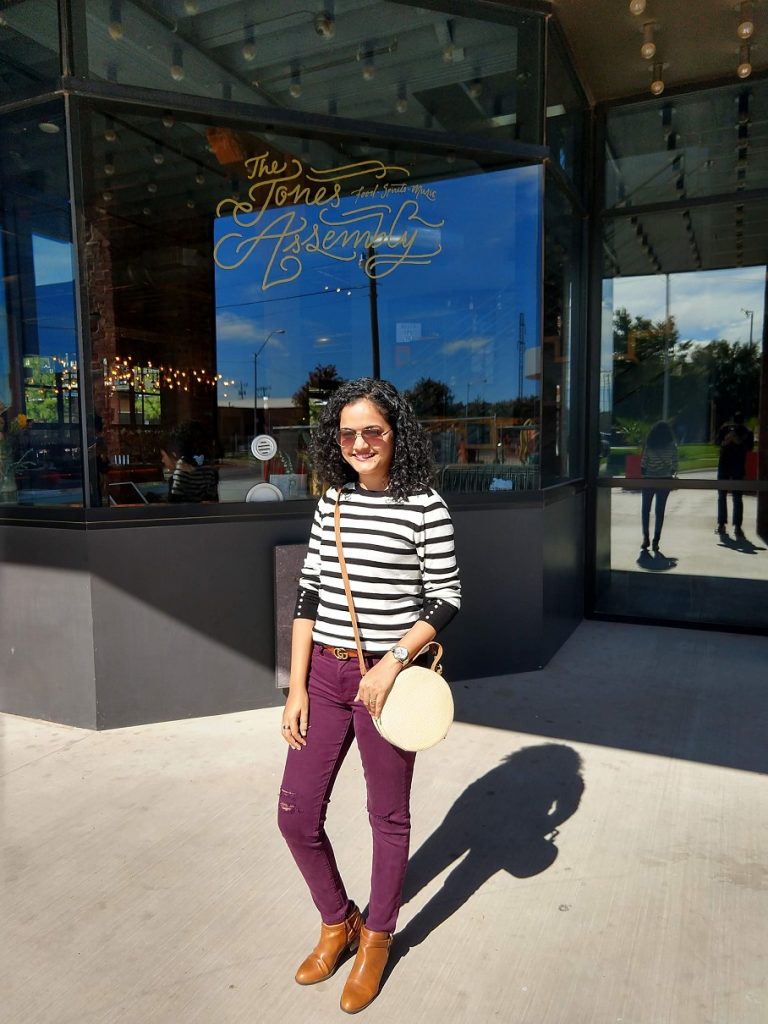 We ordered their Dips+Spreads, Brioche French Toast, Nashville Hot Chicken Burger and everything was five-star worthy. We never expected the restaurant scene in Oklahoma City to be so top notch.
WHAT TO DO?
There are so many adventures that await when you visit Oklahoma City! From the botanical gardens to a ferris wheel that offers the most incredible views and the country's only river rafting adventure located within the city (which we unfortunately had to skip since it was almost fall and had started to get a lil' chilly), you'll find so much to see and do in OKC. Keep scrolling to see some of the highlights of what we did on our weekend trip in OKC.
Myriad Botanical Gardens and Crystal Bridge Conservatory
Located in the heart of downtown Oklahoma City, the Myriad Botanical Gardens are an absolutely beautiful, urban outdoor oasis. The outdoor gardens (which are free to visit) have many walking paths and water features. There is also a children's garden and an off-leash dog park if you plan to bring your pup along for your trip! Since it was fall during our visit to OKC, the Myriad Botanical Gardens was hosting their annual pumpkin festival called Pumpkinville.
But my favorite part of the botanical gardens is the Crystal Bridge Conservatory where we spent most of our time. It's a climate controlled environment filled with thousands of beautifully displayed tropical and desert plants (who knew they were so many?!), a cascading waterfall and a sky bridge to experience stunning views in this tropical forest! You'll feel like you've escaped the hustle and bustle of the city as you walk through beautiful, lush gardens and trees. This indoor tropical conservatory is an absolutely must-see when you visit OKC.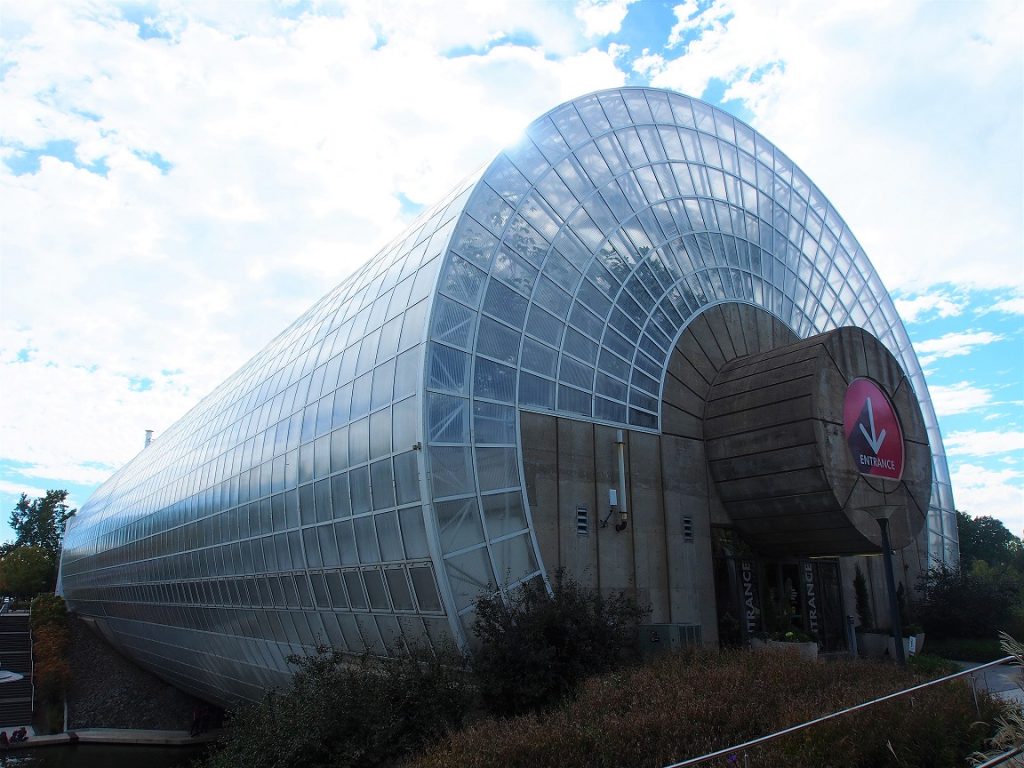 Ride the OKC Wheeler
Whether you're with kids or just as a couple, you've got to check out the OKC Wheeler. Located just outside of downtown, the adorable ferris wheel offers up amazing views of the skyline and the area is just so darn cute with tons of open space to play, picnic tables, hammocks and more!

If I told you that this Ferris wheel was purchased on eBay would you believe me? Well, I'm not lyin'! The Wheeler Ferris Wheel was originally a Santa Monica Ferris Wheel that was spotted and scooped up off eBay and rehomed here, in Oklahoma City. Now it's a historic tourist spot to visit in OKC. Make sure you take a ride to the tippy top and snap a photo by the OKC sign with the Wheeler in the background!
Go Mural Hunting
If you follow me on Instagram, it's no secret to you then that I'm not a closet mural chaser. There's little I like doing more in a new city than going on a photo safari for the best street art in town. OKC had plenty to track down, a good chunk of it woven throughout the Plaza District and Bricktown. This totally requires a separate blog post. Some of the most wonderful street art I've ever seen is in Oklahoma City. In that sense, OKC is an outdoor museum!
IMMERSE YOURSELF IN ART AND HISTORY AT THE MUSEUMS
After exploring all the art outdoors and going shutter crazy, there's more for art and history lovers in the museums of Oklahoma City. OKC has three absolutely wonderful museums that you can spend time at.
The Oklahoma City Museum of Art has a stunning collection of glass works from Dale Chihuly. The museum is home to one of the largest collections of Chihuly glass in the world.
Next up, is a museum dedicated to cowboys! Yep, you read that right. The National Cowboy and Western Heritage Museum houses 30,000 objects spanning costumes, cinema, art, artillery and so much more. We weren't too sure about this museum at first, but man, we could have spent an entire day here! I can't wait to go back and lose myself in its various exhibits.
And last but not the least, the Oklahoma City National Memorial & Museum, built in memory of the 1995 domestic terror attack that killed 168 people, left over 680 people injured, and damaged over 324 buildings in Oklahoma City. Whether it's your first visit to Oklahoma City or you've visited numerous times before, this beautiful memorial and museum is a stop that you simply cannot miss.
The Oklahoma City National Memorial & Museum will move you in more ways than one. First, it will navigate you through an area of the museum where you can see artifacts, read information, and hear recordings of firsthand accounts. Second, it will move you emotionally. The museum shows how the people of Oklahoma City rallied together and put every part of themselves into helping the rescue effort. There's a quote that is posted in numerous locations around the site that left a lasting impression on us. It says: "We come here to remember those who were killed, those who survived, and those changed forever. May all who leave here know the impact of violence. May this memorial offer comfort, strength, peace, hope, and serenity." In order to really take your time in this memorial, be sure to allow for around 2-3 hours.
If like me, you have a voracious appetite for art, don't forget to make a quick visit to the 21c Museum Hotel. There's a free art museum located on the first floor of the hotel. The museum contains many modern and contemporary art pieces that are beautiful and thought-provoking.
END YOUR TRIP WITH A STROLL AT LAKE HEFNER
After spending two amazing days in OKC, it's time to head back home. But not before you've taken a leisurely stroll at the lighthouse at Lake Hefner. The restaurants here offer excellent outdoor patio dining with an incredible view. The sun setting over the water, its vibrant colors touching the tips of sailboats, is a picturesque scene.
Clearly, with so much and more to offer, Oklahoma City is definitely one of the most underrated cities in the United States. This big city with a small town vibe has my heart.
Which of these attractions or experiences in Oklahoma City are you most looking forward to?
Click here to start planning your trip to OKC now!
Are you on Pinterest? Pin this post to save for later!