Today, I'm going to take you into the world of famous glass artist, Dale Chihuly. I first came across his work at the Victoria & Albert Museum in London (V&A Museum), in the year 2012. The V&A Museum then had a gorgeous, hard-to-miss, green and blue colored chandelier hanging in its main lobby…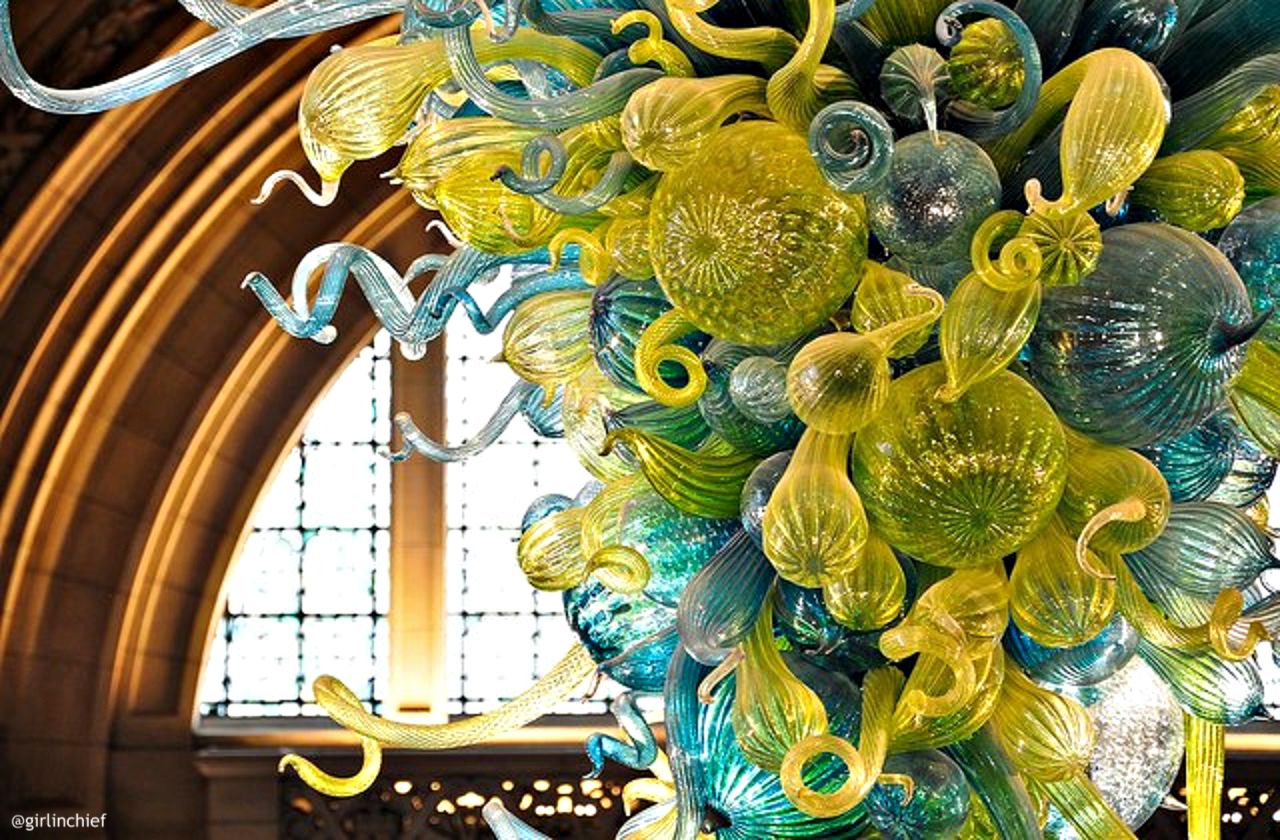 …and ever since I saw it, I've been fascinated.
I've also seen some of his other awe-inspiring works at Murano Island in Italy, at the Bellagio in Las Vegas and the Dallas Museum of Art.
But this is just to give you a background as to how I got acquainted to the works of master artist Dale Chihuly. Today, I'm going to take you on a walk through the Chihuly Garden and Glass Museum in Seattle, USA, a space that is entirely dedicated to the larger than life works of Chihuly. If you're an art lover like me, and happen to be in Seattle, this should be at the top of your list of things to do in the Emerald City.
Who is Dale Chihuly?
Dale Chihuly is one of the most iconic living artists that America has produced, essentially known for his hand-blown glass sculptures and massive installations. Largely inspired by his observation of the world around him, his art is everything but conventional. His unabashed use of color and form is sure to capture your imagination. Chihuly's installations, which are actually sculptures on a grand scale, are based on the concept of the perfect union of form, color, light, and space. Glass is his favorite medium and it's not surprising why. In Chihuly's words:
Glass is the most magical of all materials. It transmits light in a special way.
Chihuly Garden and Glass
The museum is divided into three main parts – eight galleries, a beautiful outdoor garden and a glasshouse. As you walk from one space to another, the experience just gets better. Here, you'll get to experience some of Chihuly's most significant works. It is a visual treat indeed!
Here are pictures of some of the most spectacular installations in the interior galleries.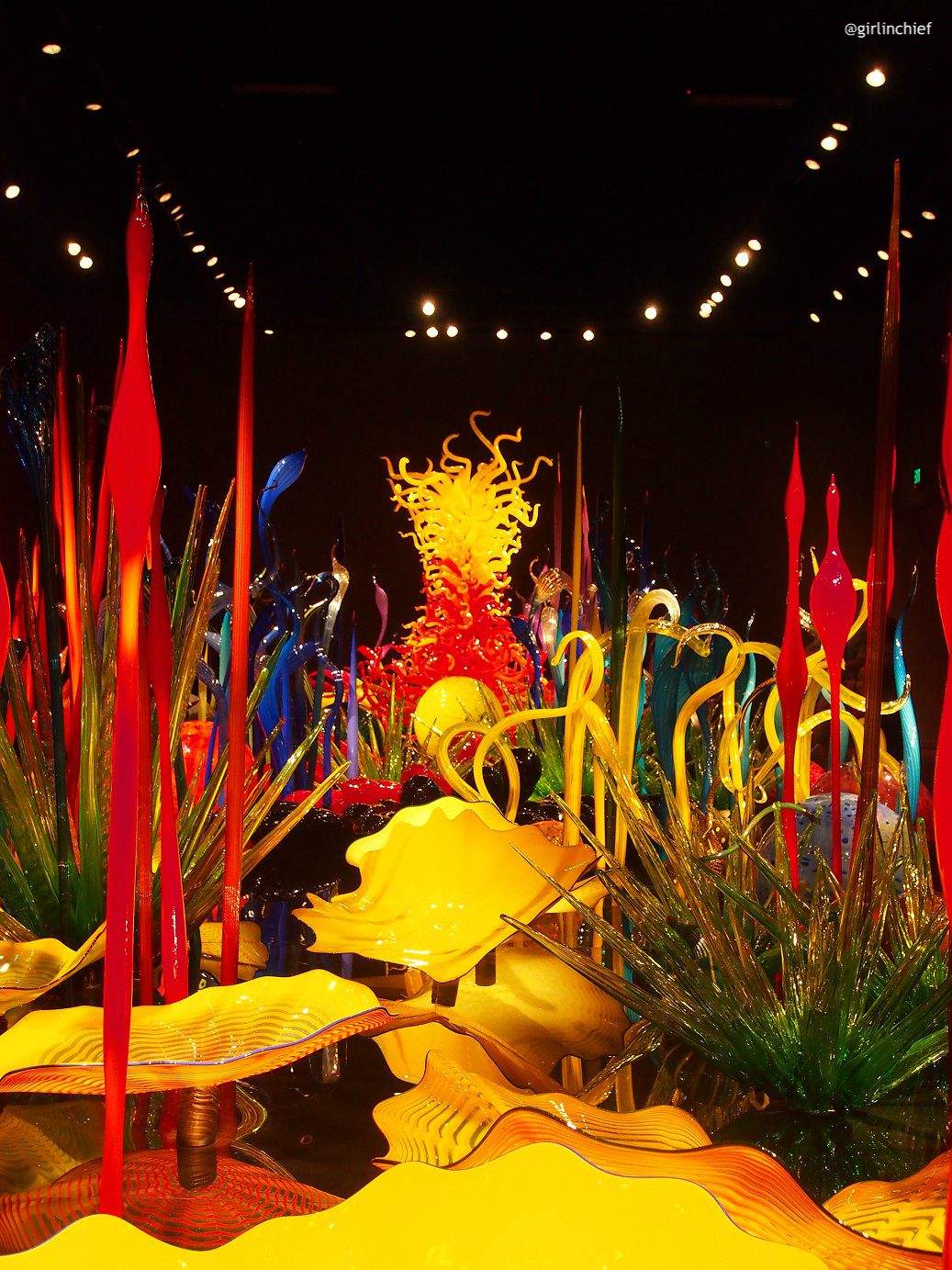 If you think you've been amazed by what you saw inside the galleries, wait until you step into the Glasshouse. I feel a visit to this museum is a continuous journey of 'Oh Wow!' moments.
The Glasshouse at Chihuly Garden & Glass features an expansive 100-foot long glass sculpture in a color palette of reds, oranges, yellows and amber. I bet you won't be able to stop looking up!
And it gets even better with the Space Needle playing peek-a-boo.
After you've clicked enough pictures and that perfect selfie, you can step into the Garden outside. It's amazing how these glass sculptures look equally stunning in the natural light as they do in the perfect gallery light.
I can say without a doubt that I have more of an affinity for the natural wonders on this planet. But once in a while, during my travels, I've stood awed beneath a wide range of man-made sights. Visiting the Chihuly Garden and Glass Museum was one such moment. It is amazing to see what epic works we little humans are capable of creating when we put our minds and bodies to it.
Location: Located next to the Space Needle at Seattle Center
Tickets: $24 (Senior citizens and students get discounted tickets and kids under four go free)
The Glasshouse is occasionally closed for private events while the rest of the Exhibition and Garden remain open. You can check the schedule and timings here.
Have you visited the Chihuly Garden & Glass museum? Which other museums do you think are a must visit? Tell me in the comments below. I'd love to know your recommendations!
Are you on Pinterest? Pin the images below to save for later!