If you're an Indian like me and had to pick a time of the year that you miss India the most, it would most certainly be during Diwali, the festival of lights. It is one the most popular festivals of India, if not the most.
Diwali is just around the corner. I love the spirit of this festival. It has the spirit of coming together, laughing over mugs of coffee and tea, snacking, and just relaxing. There are many stories linked to the reasons behind the celebration. Growing up, Diwali for me was all about new clothes, fun with family and friends, card parties, food and fire crackers (it was like the July 4th in India).
While I would like to celebrate all festivals with my family and friends back home, it is during Diwali that I miss them the most. But it's not just family and friends that I miss. I miss all the pre-Diwali shopping with my Mom; I miss decorating the house with marigold flowers and colorful rangoli; I miss walking out on my street and watching rows of diyas (oil lamps) adorn the thresholds of all houses; I miss going to the Diwali melas (markets) with my friends and sisters; I miss the community celebrations and the fireworks (no the 4th of July does not invoke the same feeling in me); I miss eating homemade sweets that I did not have to make. 🙂 But most of all, I just miss Diwali as I remember it from my childhood – a normal Diwali (as I have come to think of it).
In US, most Indian festivals that fall on weekdays, are celebrated on weekends; by visiting temples, or organizing a get-together to celebrate the occasion with friends. The actual day of the festival is business as usual, as it is not a holiday, and it is pretty difficult to get time from the daily grind to do anything special.
It's just not the same here; I miss the normal Diwali celebrations.
I wish we were home…
But the thing is – we are home. This is our home. This is the life we chose. So, in an effort to create a beautiful normal when it comes to Diwali – I try to do little things that make it special. My husband and I celebrate Diwali, maybe not in as grand a manner as back home, but still sweet enough to add meaning to the day. Here's how you can do it too:
Preparations and the build-up to Diwali is half the fun
Diwali is one festival where half the fun lies in the excitement it brings days before its arrival. Remember how our mums decorated the house. Wherever you are, go get some flowers and lights. Claim the walls of your house and make it your home. This is the place that gives you peace at night. Decorating your place in true Diwali style can actually trick you into feeling happy.
Consciously try to follow some rituals at home
Even though I'm not a believer in rituals and idol worship, doing a small Lakshmi puja on Diwali night is a reminder of family for me. I have a small poster of Lakshmi-Ganesh (Indian Goddess and God) that I printed at home and use every Diwali. I play some Diwali bhajans (hymns) on YouTube and decorate our makeshift temple at home. By doing this, I try to recreate Diwali at home. You can even visit the temple if you'd like to.
Food always come to the rescue
Food is an important aspect of all Indian festivals. Back at home in India, there's always so much food and sweets. So in the spirit of the festival, I make some homemade sweets and we eat the most festive food possible on Diwali night (kachoris, mattar paneer, meetha kaddu, dahi vada, customary meetha in the form of kheer, gulab jamun). Yes, it takes a lot of hard work, but on this particular day, I don't mind it at all. In fact, I quite enjoy it. The dinner table on Diwali night is my ode to my Mother and Mother-in-Law. 🙂
Spending time with friends – your family away from home
Miles away from home, with no relatives around, no siblings or cousins to laugh with, friendships have filled the void left after living alone years away from family. I call in all my close friends and acquaintances who I know are spending Diwali alone, and have a small get together of sorts. Great food and company are enough to add lots of happiness to the festival!
On this Diwali, if you are away from home whether in India or abroad, why not get together with a few friends to plan a small celebration involving a dinner, dressing up in Indian attire and lighting some lamps collectively. Festivities are much more about the collective spirit and celebration than anything else.
Happy Diwali Everyone! Love and light. 🙂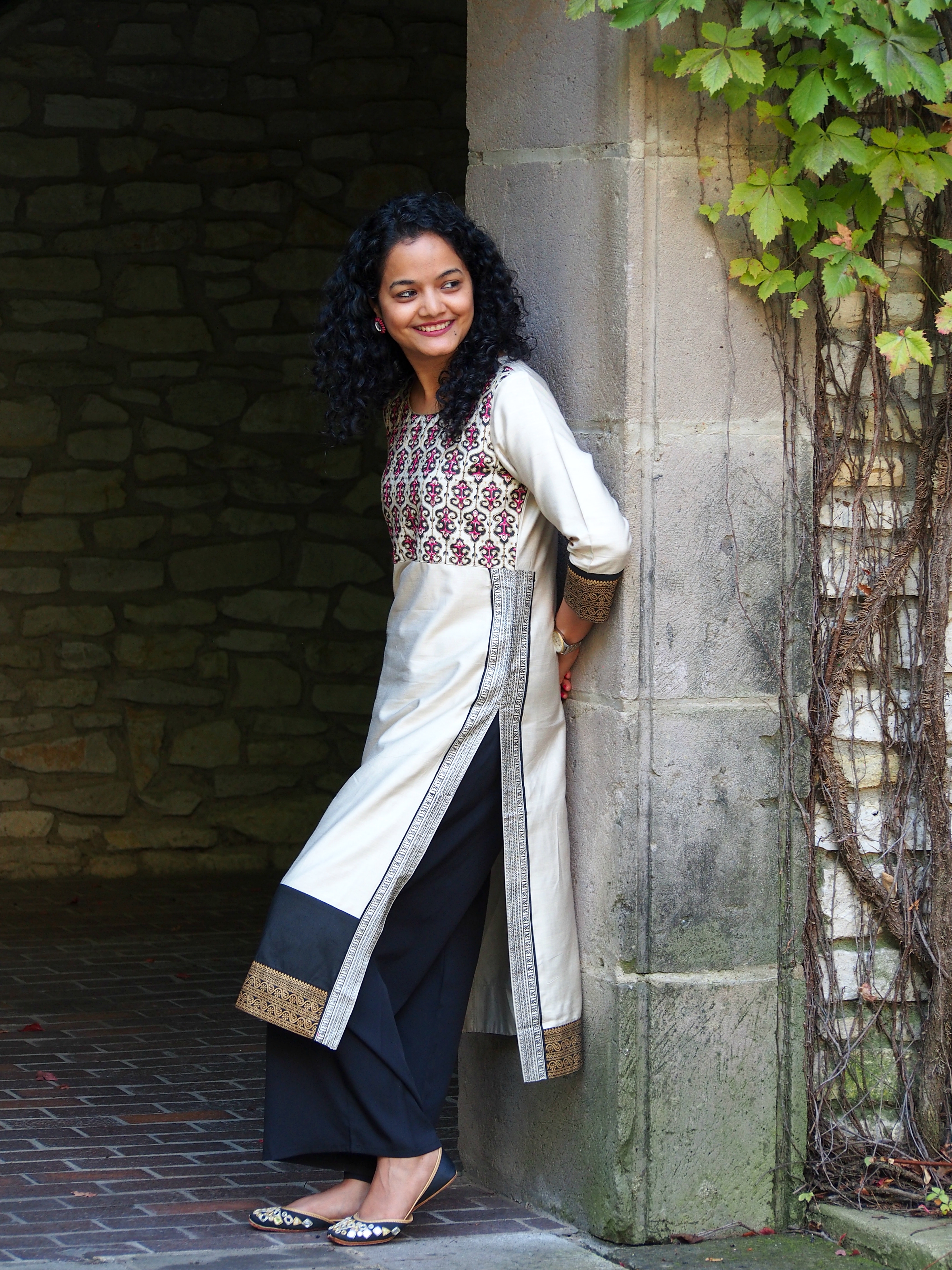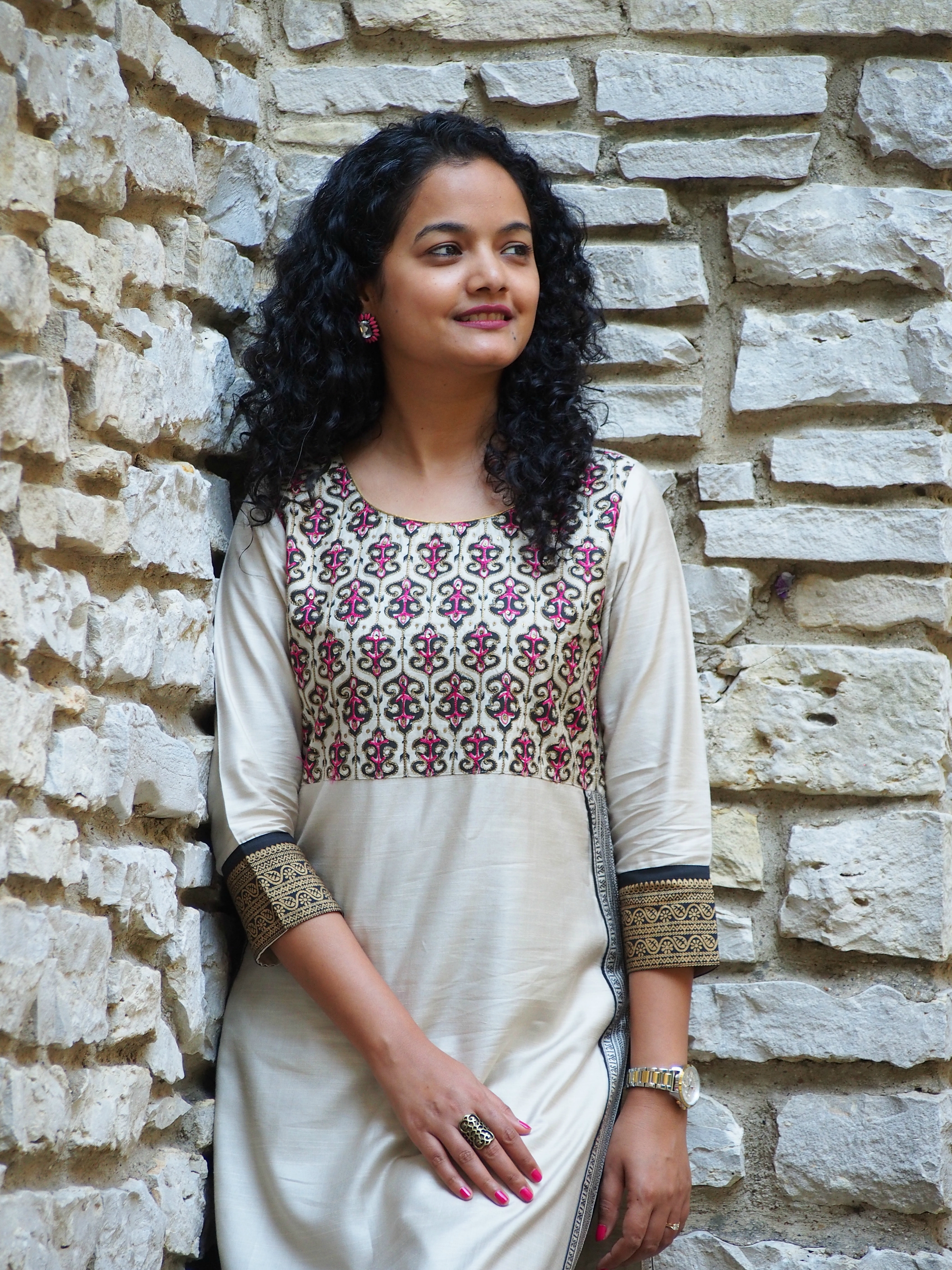 For those interested: Everything in this outfit is from India

<
p style="text-align: center;">
Pin this image to save for later