Okay, so last weekend, V and I jumped on a bus to Amsterdam for a weekend of sightseeing. I was excited. I'd seen photos of Amsterdam with its gorgeous architecture and stunning canals and houseboats. I expected to love it. I mean really love it. Instead, I'd have to say I found it interesting. It was crowded, vibrant, always open, and a little seedy. Amsterdam was a party. And not just any party. It was more like a bachelor party in Las Vegas. It's been quite sometime since I've been exposed to that much beer and weed. Really.
The city center is called Damrak or Dam Square. More like Times Square. It's a large, open square, surrounded by shopping, restaurants and bars crisscrossed by myriad of trains, trams and buses and sprinkled with a gorgeous old church, a Madame Tussaud's, a Royal Palace and this guy.
I think I experienced a sensory overload standing in Dam Square. I'm not joking when I say there were "coffee shops" all around us. For those who haven't heard, a coffee shop in Amsterdam is a place to purchase and smoke marijuana. It's not legal, mind you, it's just tolerated. If you want that machiatto or latte, you'd better ask for a cafe. As for the weed, you don't really need to buy it to enjoy it. I think I inhaled enough second-hand smoke around town to enjoy an unintentional two day contact high. No wonder I was craving McDonald's. Especially the fries. And pancakes!
Once you get away from Dam Square, you find peaceful neighborhoods with stunning canals, traditional architecture, street markets and fabulous museums. Food is a big draw. Waffles are a popular sweet treat here. And they cover them in everything known to man….chocolate, nuts, fruit, whipped cream, candy coatings…I could go on and on. There were so many awesome vendors. I'll let the photos tell the story.
From clothes to antiques to cheese and produce, you can find just about anything in a street market here. It's a great shopping city. Here's a peak at some of the market vendors we loved, and a look at Amsterdam's famous flower market.
Amsterdam is one of the most bike friendly cities in the world but I had no idea just how many bikes there would be. Look at this bike parking around the train station–it's bigger than a parking garage!
Many staircases in public places had tracks for your bike, so you could easily push it up. Genius!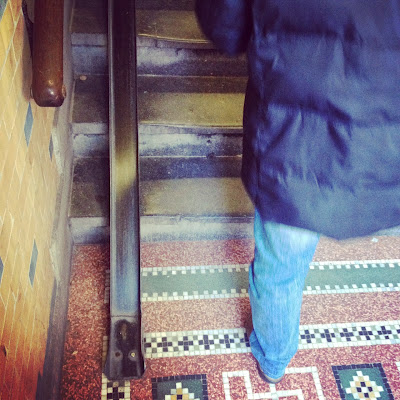 If there's one thing in particular that Amsterdam is famous for, it has to be their canal system. And there are so many of them–more than Venice! It's what keeps the city humming. Boats are everywhere, from sightseeing boats to delivery boats, houseboats to floating museums and bed-and-breakfasts. Water and controlling it are vital to Amsterdam's existence. It also makes for some beautiful real estate (and vacation) photos. Take a look:
And now, here's a little collection of various photos I took from around Amsterdam. They don't fit any specific category, but they are still worth sharing:
And finally, a click from the famed Red Light District that I literally stole.
Since our trip was so short, we decided to treat it as if we were, more or less, living in Amsterdam. Just walked around, explored the streets and shops, ate and drank. We didn't go to many of the tourist attractions, other than visiting the tulip gardens and the powerfully affecting, Anne Frank House, which was incredibly moving. I would have loved to include photos from Anne Frank House but they don't allow any photos to be taken. I did get to see the Secret Annex where Anne Frank and her family went into hiding during the German persecution of Jews in Netherlands.
The tulip are here of course!
Okay, guys. That's it for Amsterdam. Thanks for reading along.
Pin the image below to save for later